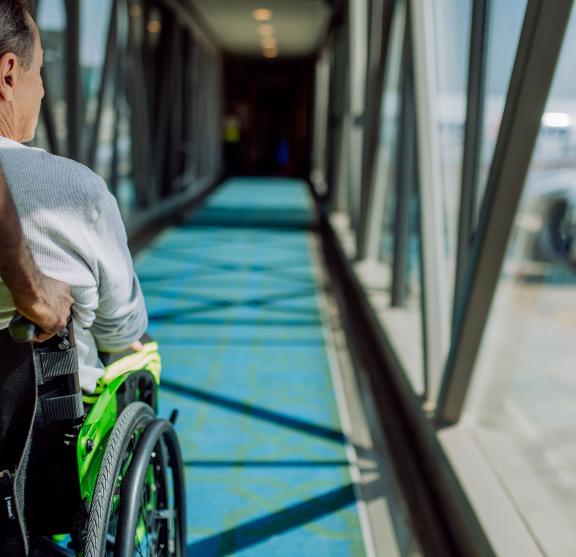 SRQ is dedicated to providing access to all services for our guests who are coping with disabilities.
We provide curbside assistance for loading or unloading; abundant accessible street-level parking; accessible routes with curb cuts; automatic doors; elevators; ramped access to the gate areas; preferential seating near all gate doors; ramped jet bridge access to all aircraft; and wheelchair accessible restrooms and drinking fountains.
Wheelchairs Flying into SRQ? Request a wheelchair when booking your flight, while checking in, or speak with a flight attendant during your flight.
Flying out of SRQ? Request a wheelchair at the ticketing wing of the terminal. Ask your airline about traveling
with power chair batteries.
Oxygen If you have a condition that requires supplemental oxygen, be sure to discuss this with your airline when making your reservation.  Visit the NCOA website Traveling Safely With Portable Oxygen and the TSA website Medically Necessary Personal Oxygen | Transportation Security Administration (tsa.gov) for more information.
Assistance Animals When making reservations, let your airline know if you plan to travel with a service animal. Information concerning traveling with service animals is available both through TSA and DOT. SRQ offers three animal relief areas, including one onthe B concourse post-security. For additional information click here. 
Assistive Hearing Devices
Hearing Loop or T-coil technology provides a clearer listening experience to passengers with hearing aids by directly transmitting paging and announcements directly to hearing aids, thus eliminating background noise.


Assistive T-Coil hearing loops are available in the gate areas of the B concourse.  It is important to note that it is not available in the food and beverage, retail, or restroom areas.
Check with your audiologist to see if your hearing aid networks with T-coil service.
Accessible Restrooms with Caregiver Access A companion restroom offering a private area is located on the third floor of the main terminal. Ask for directions at any information desk.
Accessible Parking including van-accessible spaces, are available in all parking lots in closest proximity to the ticketing and baggage claim areas of the terminal. All parking areas are uncovered at surface level and will accommodate vans and other vehicles of above-normal height. A van equipped with a wheelchair lift is available to aid in transport from the long-term parking lot to the terminal.
If you need extra time at the curb for loading and unloading, Airport staff is available to assist.
Hidden Disabilities Sunflower Program
The Sarasota Bradenton International Airport is proud to participate in the Hidden Disabilities Sunflower Program to aid individuals with non-visible disabilities and provide the support they need while traveling through SRQ.
This voluntary program for airport passengers identifies hidden disabilities by the green sunflower product they choose to wear. While this program does not allow for special treatment or expedited service, it is a reminder to airport staff that the passenger may require additional assistance.
SRQ has lanyards available at no cost to passengers.  Travelers are urged to pick up a lanyard at any volunteer desk in the airport. 
SRQ has lanyards available for pick-up during normal business hours at the Visitors Center in the baggage claim as well as the Main Information Booth on the second floor.
More information on the Hidden Disabilities can be found here.
Ground Transportation
Taxis
Accessible taxi and van service vehicles are available upon request. To save some time, it is recommended that travelers contact the taxi starter and schedule a ride in advance. Assistance with transferring to ground transportation will be made available if required.
Bus Transportation
An accessible route is provided from the terminal baggage claim/ground transportation area to the bus stop. Bus service to and from SRQ is provided by Sarasota County Area Transit (SCAT) and Manatee County Area Transit (MCAT). 
Rental Cars
The following rental car companies operate in-terminal counters at SRQ:
Alamo: (888) 233-8749
Avis: (800) 331-2323
Budget: 888-221-1203
Enterprise: (866) 225-4284
Hertz: (800) 654-2280
National: (800) 328-6323
Payless: (800) 729- 5377
TSA Cares Program In an effort to assist those travelers with disabilities and medical conditions, the TSA has a help line that addresses travelers' questions about screening policies, procedures and what to expect at the security checkpoint. Call 1-855-787-2227 or or visit the TSA Special Procedures.
Nondiscrimination on the Basis of Disability SRQ does not discriminate on the basis of disability and operates in compliance with the Americans with Disabilities Act (ADA) and Section 504 of the Rehabilitation Act of 1973 (504), including investigation of any complaint communicated to the Airport regarding a denial of access to an Airport facility, service or program.
Airline Passengers with Disabilities Bill of Rights Commercial airlines serving SRQ are required by federal regulations to honor fundamental rights of their passengers with disabilities. Travelers are urged to understand those rights. To assist in this understanding, the US Department of Transportation has compiled an Airline Passengers with Disabilities Bill of Rights, which can be found here.
The ADA/504 Coordinator for SRQ is Donald Farr, who can be reached at (941) 359-2770 ext.4233 or at [email protected]. The office of the ADA/504 Coordinator administers SRQ's disability grievance procedure.