Quality Shopping in a Relaxed Environment.
Image
Image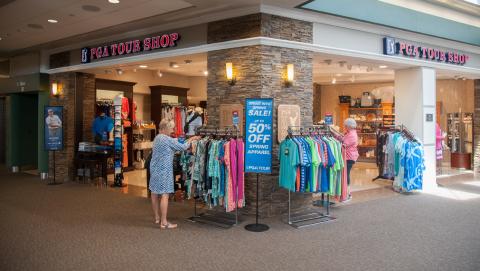 Image
Image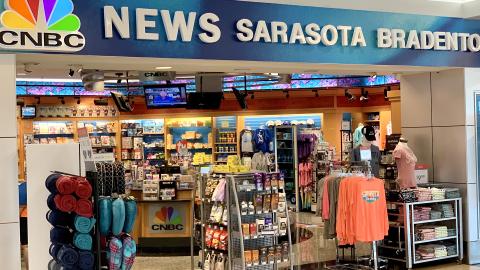 Image
Image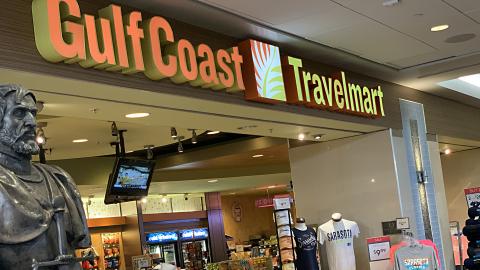 ---
Located Pre-Security:
 

 

featuring  
This innovative Travelmart concept provides travelers with a comprehensive assortment of news, sundries, travel accessories, delicious snacks, chilled beverages, and Florida-themed apparel and gifts. Gulf Coast Travelmart is featuring Dunkin', America's largest retailer of coffee by the cup. Dunkin' offers a full-service menu that satisfies even the biggest appetites.
PGA Tour Shop

 
Featuring the "Best Price Guarantee," the store offers an attractive assortment of golf equipment and exclusive apparel from Nike, Tommy Bahama, Under Armour, and more.
Whether you're a golf fanatic or looking for the latest in beach wear we've got you covered!
The PGA TOUR Shop at SRQ also includes a collection of gorgeous jewelry, handbags, and accessories from Brighton.
Located Post-Security:
CNBC Sarasota Bradenton
An innovative alternative to traditional newsstands, CNBC Sarasota Bradenton airs the CNBC business day programming in the store and offers a broad range of popular newsstand items including magazines, books and snacks, as well as Florida themed apparel and gifts. The Paradies Shops' Travelmart and CNBC at SRQ participate in the Read & Return Program. This program allows travelers to buy a book, read it, return it within in six months at a Paradies store with the original receipt, and receive 50% of their money back! The program is good on all hard cover or paperback books.
*Please note: Hours vary according to monthly flight schedules.